For the last 30 years, we have been offering our expertise to achieve together your most memorable events on the Maltese archipelago.
WHO WE ARE
A+DMC Malta, by Robert Arrigo & Sons, is a customer focused full service DMC, based on the Mediterranean Island of Malta, and is recognised by the Malta Tourism Authority. Specialising in M.I.C.E business, the company retains the flexibility of a small organisation, backed by around 30 employees, all professionals in their own field. This motivated team of professionals aims to guarantee the success of tailor made events, on the Maltese archipelago
SINCE 1983
A+DMC by Robert Arrigo & Sons has developed strategic alliances and close partnership with specialised and motivated business tourism experts. By choosing A+DMC you will benefit from all these years of experience. You can rest assured that we will place at your disposal the best multi-lingual, experienced human resources.
our mission
Deliver a value for money, high standard product and service together with a strong emphasis on presenting M.I.C.E event solutions that meet every single brief, without eliminating a creativity angle.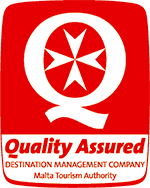 awards & RECOGNITION
A+DMC has been recognised a "Quality Assured" destination management company. This quality scheme launched in 2008 by the Malta Tourism Authority, aims to reward those DMCs committed to high levels of quality and professionalism.
Our Strong Points
Over 30 years experience in the tourism field
Backing by Robert Arrigo and Sons Group
Flexible administration of a small firm
Sharp and powerful purchasing power
Professional and experienced staff
THE TEAM
A+DMC consists of a multilingual team with over 30 years of experience in the Destination Management sector. We will be happy to help you with your request in English, French, Italian and Spanish. We look forward to your inquiries which will be replied within 48 hours'